A Book Review of The Paradox of Choice – Why More is Less
Home    Book Reviews    A Book Review of The Paradox of Choice – Why More is Less
A while ago, one of my readers suggested to read "The Paradox of Choice – Why More is Less" by Barry Schwartz and considered to add it to my collection of UX Books. I bought the book, finished it a while ago and now finally found the time to share my thoughts.
My two cents on The Paradox of Choice
Barry Schwartz wrote an interesting book with a central argument: does the increasing amount of choice in people's lives have consequences in their behaviour and decision making? According to Schwartz, everyday decisions, such as buying a pair of jeans or ordering a cup of coffee, have become increasingly complex due to the abundance of choice with which we are presented.
We assume that more choice means better options and a greater satisfaction. At least it sounds logical. But for Barry Schwartz, excessive choice could cause a cognitive burden, which actually leads us to a less satisfied life. He goes further by saying that it will result in unrealistically high expectations, blaming ourselves for failure, perpetual stress and even clinical depression. The discussion is thought-provoking, to say the least.
You will not find "The Paradox of Choice" in a lot of UX Book Collections, including mine, because it is not your typical UX book. It could best be described as a book about self-improvement, being applicable to your everyday life, and not as a science book as such.
Pro:
The Paradox of Choice is an easy to read book with plenty of interesting thoughts and does a great job of outlining various psychological realities about the concept of choice. If you have never heard of Opportunity Costs, Anchoring, Escalation of Commitment, etc, then this could be your book. But …
Con:
Maybe this is nitpicking but Barry Schwartz sounds, from time to time, like Statler or Waldorf from the Muppets, by complaining about the excessive amount of choices he has to make. He describes, for example, the agony of buying a pair of jeans. Hundred different cuts in different sizes and colors. Don't get me wrong, I understand Schwartz' critique and I do follow his theory about the excessive amount of choice, but to me it's normal that stores offer more than the "ideal body type" of pants. For Schwartz, however, this was his first time experience with something called a boot-cut.
This little jeans example illustrates how he adds unnecessary complexity to certain situations, but fortunatly enough he used better examples throughout the book.
The real downer to me is that Schwartz' conclusions are sometimes based on mere speculation and haven't always been validated through scientific research, which, to me, undermines his arguments and the credibility of the book.
Overall:
A Paradox of Choice is an insightful book with interesting case studies but sometimes a tad repetitive. Was it a good read you ask me? Well, it was a good read for the first 70 or so pages. Just don't set your expectations too high for the other 230.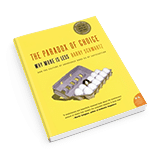 Whether we're buying a pair of jeans, ordering a cup of coffee, selecting a long-distance carrier, everyday decisions have become increasingly complex due to the overwhelming abundance of choice with which we are presented. Schwartz argues that eliminating consumer choices can greatly reduce anxiety for shoppers.